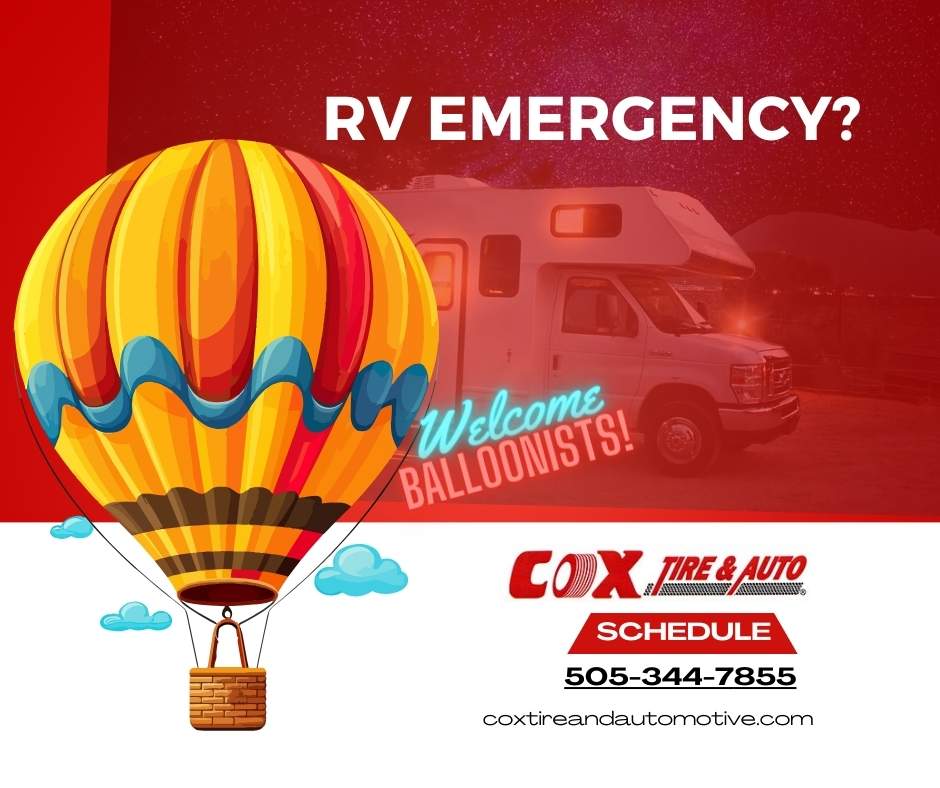 Balloon Fiesta and RV Emergencies
October 9, 2023
As the days get shorter and colder, it's time for RV owners to start thinking about winterization. At Cox Tire, Auto, and RV, we understand the importance of properly preparing your vehicle for the winter months. Our team of professionals is here to help you with all your winterization needs and ensure that your RV or pull along is ready when spring arrives.
Take Your Vehicle Out of Service
The first step in the winterization process is determining the date to take your vehicle out of service for the winter. It's crucial to plan ahead, as the winterization process must be reversed before your unit becomes usable again. By scheduling this at the right time, you can avoid any inconvenience when you're ready to hit the road again.
Drain and Flush all Holding Tanks
To prevent any damage from freezing temperatures, it's essential to drain and flush all holding tanks. From the fresh water tank to the gray and black water tanks, make sure every single one is empty and free of any residual waste. This step is critical to avoid any costly repairs in the future.
Fill Plumbing and Tanks with RV Antifreeze
Protecting your plumbing system from freezing is crucial during the winter months. By filling all the plumbing and tanks with RV antifreeze, you ensure that no pipes or fittings will burst due to ice formation. Our experts will guide you through the process to guarantee the correct amount and type of antifreeze is used for your specific RV model.
Store Wisely: Beware of Bursting Beverages
Before storing your RV, it's crucial to remove all beverages, freezable fluids, and canned goods. Extreme cold temperatures can cause these items to burst, leaving you with an unpleasant surprise in the spring. Take the time to thoroughly inspect and clean your RV to avoid any unwanted surprises when the warmer weather returns.
Battery Maintenance and Oil Change
Properly maintaining your RV's battery during the winter months is vital. If your batteries aren't charging on a solar panel, it's recommended to remove them and maintain them on a charge regulator over the storage period. This ensures they stay in good condition and are ready for use when you need them.
Additionally, don't forget to schedule an oil change before storing your RV. Fresh oil will help protect your engine during the dormant winter months. And come springtime, consider getting a radiator flush to ensure your RV runs smoothly throughout the year.
Trust the Professionals at Cox Tire and RV Service
As the winter season approaches, don't leave your RV winterization in the hands of just anyone. Trust the professionals at Cox Tire, Auto, and RV Service to take care of all your winterization needs. Our experienced team has the knowledge and expertise to ensure that your RV is properly prepared for the cold months ahead.
Skip the dealership and choose Cox Tire, Auto, and RV Service for all your winterization needs. Contact us today to schedule an appointment with our trusted professionals. We'll have your RV ready and waiting for your next adventure when spring arrives.