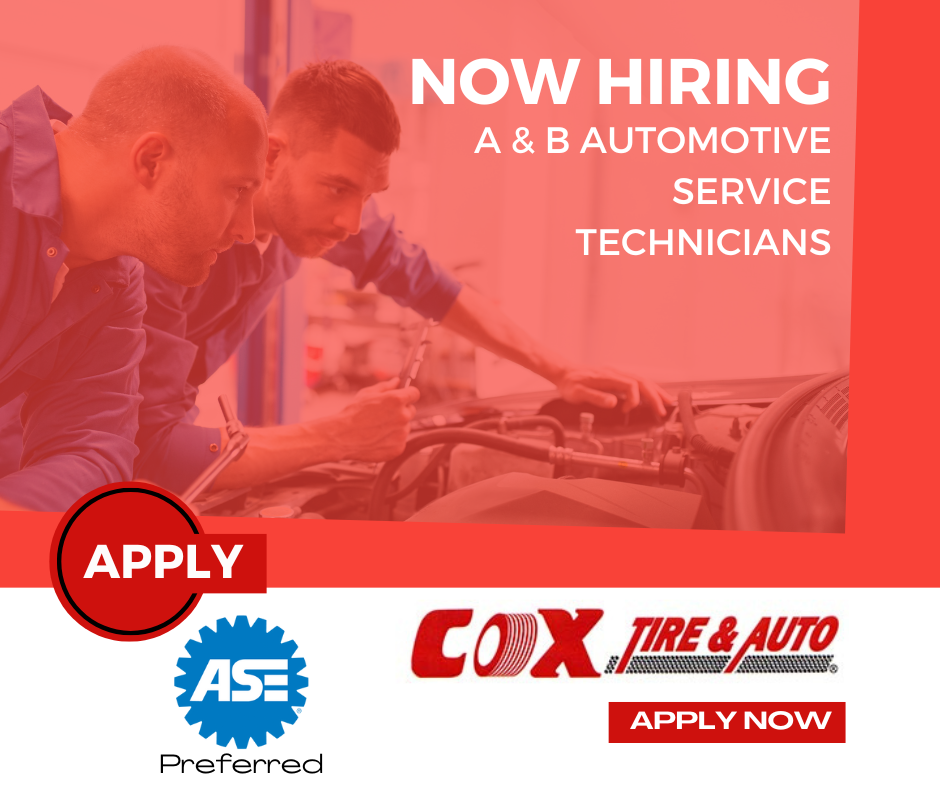 Now Hiring A and B Service Technicians
August 16, 2023
At Cox Tire, Auto & RV, we believe that a well-informed car owner is a safer, happier driver. One of the key systems in your vehicle that often goes unnoticed yet plays a critical role in your driving experience is the suspension system. This blog post will delve into the intricacies of the suspension system, its components, and their functions.
What is a Suspension System?
The suspension system of a vehicle is a complex network of components designed to provide a smooth ride by absorbing and dampening road shocks while maintaining tire contact with the road. It's also responsible for maintaining vehicle balance and providing safety measures for passengers during impacts or collisions. Key components in the suspension system include shock absorbers, springs, and struts, among others.
Let's delve deeper into these parts:
Shock Absorbers
Shock absorbers, or "shocks," are designed to absorb and dampen the impact from road bumps to provide a smoother ride. They do this by converting kinetic energy (motion) into thermal energy (heat), which is then dissipated into the atmosphere.
There are several types of shock absorbers, including gas shocks, standard shocks, heavy-duty shocks, and overload shocks. The type of shock absorber compatible with your vehicle depends on its make, model, and purpose (e.g., daily commuting, off-roading, etc.).
Shock absorbers typically need to be replaced every 50,000 miles or less, depending on driving conditions and habits. Regular maintenance helps ensure their optimal performance and longevity.
Struts
Struts are a major structural part of your vehicle's suspension system. They are essentially a coil spring and shock absorber combined into one unit. Struts not only absorb impacts, but they also help maintain the vehicle's alignment, support the weight of the vehicle, and aid in handling and braking.
Just like shock absorbers, struts also have a lifespan and need to be replaced over time. A worn-out strut can reduce the stability and safety of your vehicle, making regular maintenance crucial.
Different Types of Suspension Systems
There are several types of suspension systems used in vehicles today:
Independent Front Suspension (IFS): In this system, the front wheels are allowed to move independently. Most cars and SUVs use this type of suspension for better handling and comfort.
Solid Axle Front Suspension: Commonly found on heavy-duty trucks and off-road vehicles, this robust system allows both front wheels to move together.
Multi-Link Suspension: This complex system provides excellent control and comfort. It's commonly found in luxury and high-performance vehicles.
MacPherson Strut Suspension: This is a simple, cost-effective system that combines a shock absorber and coil spring into a single unit. It's widely used in many passenger cars.
Understanding your vehicle's suspension system can help you maintain it properly and ensure a smoother, safer ride. At Cox Tire, Auto & RV, we provide comprehensive suspension services, from routine inspections to part replacements. Contact us today to schedule an appointment!